ILC Assignment:
Inspect Siemens MRI to determine extent of damage.
Determine if the MRI is restorable to pre-loss condition.
Review repair estimate from OEM to determine if it is accurate.
Arrange for independent repair quote to bring MRI to pre-loss condition.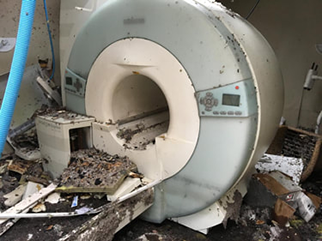 ILC Inspection Details:
The OEM had already inspected this MRI.
The OEM estimate listed repairs totaling $108,000.00.
ILC inspected the MRI on site. ILC completed a full diagnostic sweep of the MRI functionality.
ILC organized an independent qualified inspection documenting a significantly reduced repair estimate.
With the assistance of ILC this claim of $108,000.00 was reduced to $6,000.00.
Summary:
Loss reduction of $102,000.00.
Any Original Equipment Manufacturer (OEM) must be independently verified for accuracy.
Immediate inspection of loss site was critical to prevent further loss damages.