ILC Difference:
Project Management
Each consultant has an in-depth understanding specific to the process and equipment used by the insured – spanning a wide breadth and depth of machines and processes.
Reduction in Business Interruption
Capability to manage costs and time to restore the equipment predictably and dependably.
Re-Engineering the Technology Platforms
Specific to bringing pre-dated technology and functionality up to current code, adhering to safety and code regulations.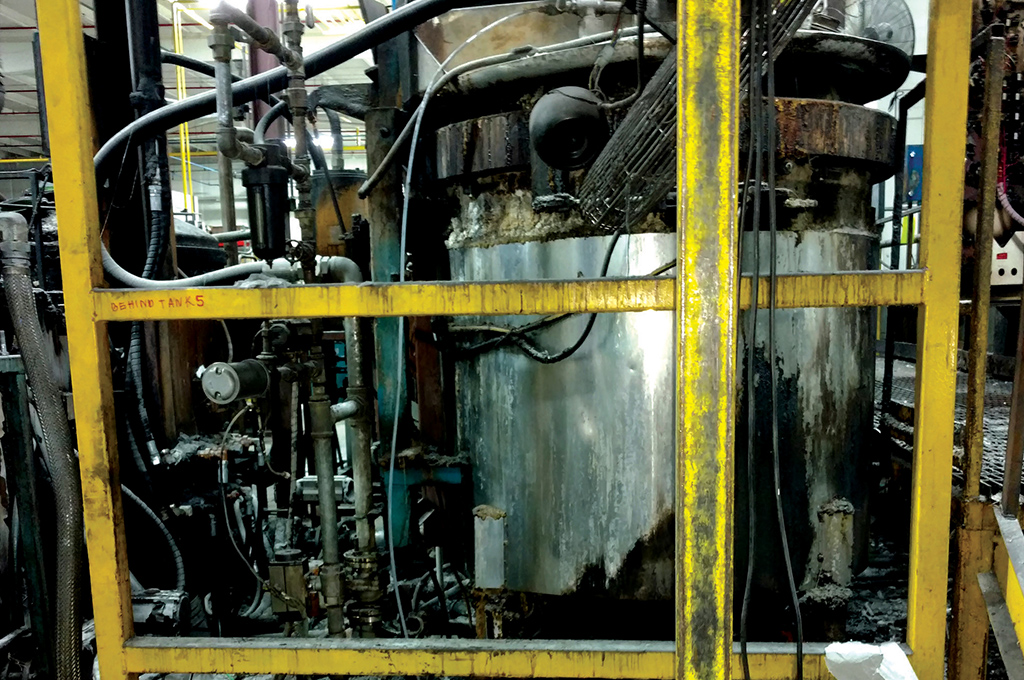 SITUATION
While making repairs to a resin tank with a torch, residual resin caught fire at an automotive casting plant. As a result, the power in the plant went out, and the high production resin line cooled, and stopped. Agitation stopped, ultimately solidifying the line, tanks and all equipment involved.
COMPLICATION
There was no OEM as the pressure vessels dated back to the mid 1960's and other equipment was from the mid 1980's, with the majority of the line modified and customized for the insured's application through the decades.
The insured had another facility which recently installed a new comparable system and had operational challenges achieving desired results and performance. ILC reviewed the progress of the new line installation and determined that the lead time to build a new line was significant. The insured needed to get the line back into production as quickly as possible, due to customer commitments.
SOLUTION
ILC's machinery consultants were called to provide an assessment of the damaged equipment with the insured and the carrier on site. ILC's assessment determined that the machinery could be restored to it's pre-loss condition and include a warranty within a specified timeline. The fastest route to returning the machinery to production was to repair it by transporting it to ILC's warehouse, where a team of experts could expedite the process and return the rebuilt tanks and machinery back to the insured's site.
ILC'S ASSESSMENT DETERMINED THE MACHINERY COULD BE RESTORED TO PRE-LOSS CONDITION AND INCLUDE A WARRANTY GIVEN A SPECIFIED TIMELINE.
ILC is machinery consultants worked directly with loss consultants and engineers specific to resin tanks and casting lines to hit the specified 5 month timeline, including adjustments to location and operations and addressing safety issues through electronics, machine equipment and installation of pressure vessels below ground. ILC's solution included:

The restoration of the resin line at the ILC facility in Elk Grove
All resin pressure vessels were sent to a certification facility
Moving the line to be reinstalled in a new location
All the electronics, pneumatics, hydraulics, plumbing, programming and safety infrastructure was replaced (at the request and expense of the insured), updated safety requirements per code.
Due to ILC's recommendation and solution, the following results were accomplished: